WHAT ARE IMAGE VIEWING ANGLES?
In televisions and screens of all kinds, the viewing angle is the position from which the viewer can see an image or video correctly.
On screens with a reduced viewing angle, you can only capture a clear image by positioning yourself in front of the screen.
LED SCREEN VIEWING ANGLES
The viewing angles of a LED screen are measured horizontally and vertically, and indicate on what range the images on the screen are visible in regard to a perpendicular view of its surface. For example, in a 160/120 angle of viewing measurements, the first number (160) represents the horizontal viewing angle and indicates that an image on the screen is visible if we move to a range of 160 degrees horizontally (from one side to the other). The second number (120) represents the vertical viewing angle, and indicates that the image on the screen is visible up to a range of 120 degrees vertically. This vertical angle is very important for LED screens that are raised from ground, such as those located on poles, monopoles, facades or hanging.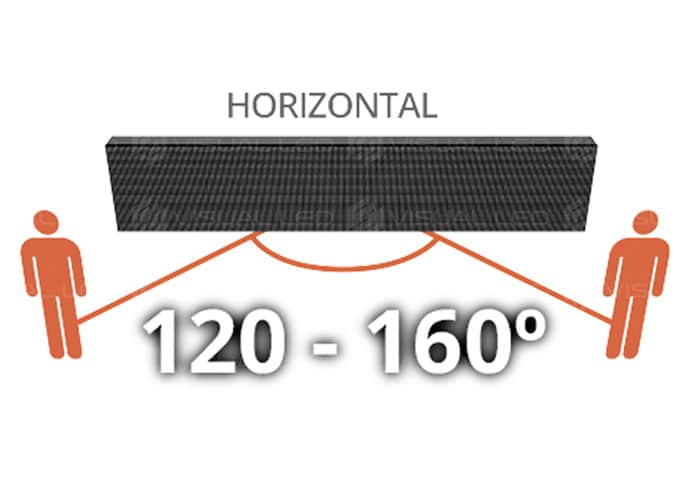 WHY ARE VIEWING ANGLES IMPORTANT FOR A LED SCREEN?
The viewing angles of a screen can condition the audience's correct perception of contents. Therefore, it is recommended for your screen to have a horizontal viewing angle between 120 and 160 and a vertical angle between 120 and 160.
The types of LEDs used in a screen can have an impact on the viewing angles it offers. The SMD and anti-vandalism LEDs have a format that favors better viewing angles
In addition, by incorporating the 3 basic light colors in the same encapsulation, there is no visual interference when viewing contents from wide angles. In the screens with LED DIP, these angles are reduced due to the LED'S own morphology. Since the three basic colors are in separate LEDs, a slight loss of visibility of one of the colors can occur when viewing contents from open angles. This can cause a certain color to appear dominant over the image, which slightly degrades color fidelity.